Service Goal
PCC is an all-inclusive billing service specializing in maximizing your reimbursements while meeting all federal guidelines. We use many tools to effectively minimize days in A/R. The key to our success is adapting what we do to match the needs of your service. We can accommodate high tech services that can send everything electronic to the not so technical services that are more paper intensive. We strive to ensure that our service meets your expectations.
Account Billing
Your Ambulance Service will receive a dedicated Account Representative responsible for handling all aspects of your account. Compliance with State & Federal claim filing regulations is inspected by performing pre-payment & post-payment monitoring to validate industry best practices. You will get a real person on the phone and not some automated service to answer your questions.
Compliance Program
PCC is strengthened by our commitment to Compliance. Our Compliance Department led by Certified Coding Staff is dedicated to meet or exceed all State & Federal claim filing regulations, as well as maintaining Compliance with HIPAA Privacy & Security regulations for Third Party Billing Services. Our specific focus is shining a light on the OIG Guidance for Ambulance Suppliers to inform of Regulations set forth by Federal Health Care Programs while preventing Fraud & Abuse.
Education
PCC has a high regard for providing continued education for "Our" staff and "Yours". Our staff is trained monthly on the latest changes happening in the industry. We also bring these changes back to your staff to communicate these changes and how it affects the documentation requirements from the Ambulance Service point of view.
Electronic Claims Submission
PCC will submit all claims electronically to payers that accept claims electronically. Our use of this technology reduces your turn around time from several weeks or longer....to just days. When Patient Care Reports are properly documented Ambulance Services experience claim adjudication in 7-10 days from Commercial Insurance and just 12 days from Medicare.
Skip Tracing
Ever have trouble finding a patient that was just passing thru or has just moved with no forwarding address? PCC has a good success rate at finding these patients by utilizing an online service to track them down with their information. Over half the patients that you have written off the books as bad debt could have been found with our services.
Reporting
All claims with activity will show on our reports. PCC has standard reports that show new charges sent to insurance and payments applied to accounts with a balance. The outstanding balance for each patient is known at any time of the month. Our reports are sent as often as you need and are always yours to request.
Web-Based Data Collection Systems/Electronic Medical Record (EMRs)
PCC's experience working with Web-Based Data Systems directly benefits the Ambulance Service. While EMS personnel complete State required reporting, claims are automatically electronically submitted to PCC. Billing delays are eliminated and claim processing is much more efficient. PCC currently works with many Web-Based Data Collection Systems or EMR products including Med-Media, Image Trend and Firehouse Systems.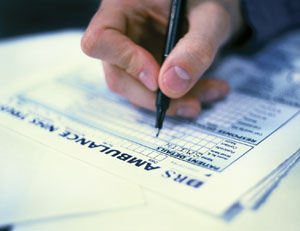 Credentialing
CMS Credentialing guidelines have changed. All services will be required to complete a new 855b application in order to continue to submit claims for payment to Medicare. This process has already begun for a large number of clients. To date PCC has completed dozens of revalidations for our clients. Our experienced Staff will steer you from pitfalls and assist you in filing updates & meeting time sensitive deadlines. Failing to do so in a timely manner could stop income until the paper intensive application is complete. Wouldn't it take a lot of worry and time off your hands of PCC was doing your billing?
Collection Service
Upon approval from the Ambulance Service, PCC can forward uncollectable balances to the Collection Service of your choice. We currently work with many collections services across the region.
Contact PCC for your free over-the-phone or onsite consultation.